Just a mix of interesting things today - freebies I've discovered in the last few weeks around the web...
Want to learn how to make these sweet hairpins using vintage materials?
Need a link to twitter on your blog? There are heaps of free
downloadables
to choose from
here
at
Randa Clay Design
.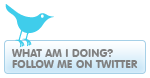 Are you a last minute person like yours truly? Make Bunting MEGA quick for any occasion using just tissue, glue and string. Get the
how-to
at
Project Wedding
.
I really need to get one of these done. My scraps and threads are all over the place, and need a home. Get this fabric covered box tutorial at
Adelaide Lemonade
via
Sew Mama Sew
Enjoy!